Research data training. Sign up by June 14!
Data sharing and data reproducibility are major issues when it comes to reliable data science.
Data Science in Hamburg – Helmholtz Graduate School for the Structure of Matter (DASHH) and the Helmholtz Information & Data Science Academy (HIDA) invite to sign up for two online workshops by Nature Research Academies.
Learn about data sharing and discuss problems and pitfalls in two afternoon workshops on June 21st and 22nd. Take advantage of this offer with experts sharing their knowledge on open data science.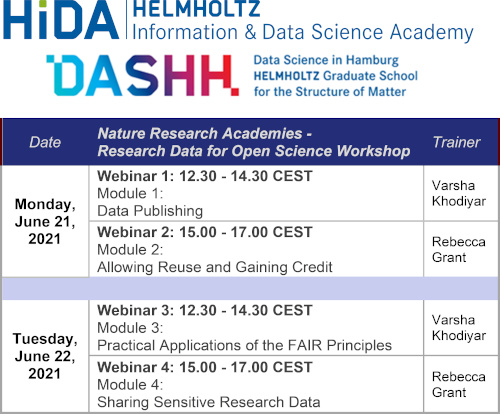 Registration
If you are interested, please send a mail with your institutional email address and subject: "HIDA Data Science Training by Nature Research Academies - Data Publishing and Sharing" to dashh-office@desy.de indicating the workshop(s) you would like to attend.
Your feedback afterwards will be invaluable for the evaluation of these courses and to assess whether they should be regularly included in the scientific curriculum of the graduate schools.
Both workshops are free of charge for Helmholtz researchers and researchers of our partner institutions.